Learning how to install a bidet attachment is a fantastic way to save money. Not only do you save money by installing it yourself, but modern bidet attachments use very little water, so they remain cost-effective to use.
Furthermore, you may never have to repurchase toilet paper, and if you have a big family, you know all too well how much you go through every week.
The bidet found popularity in the 1600s, especially in Europe. However, the refreshing cleaning device failed to ignite bottoms in America, though our growing awareness of the environment may change that.
So, if you want a hyper-clean bottom and would like to save money simultaneously, you may wish to learn how to install a bidet attachment.
How to Install a Bidet Attachment
Unlike a free-standing bidet, which can be challenging to fit, a bidet attachment is a job you can complete within a couple of hours on the weekend.
Most bidet attachment kits supply the main elements needed to complete the job, though you may also need a few essential tools.
A bidet attachment fits the existing seat. After fitting the T-valve adaptor, you re-attach the water supply and connect the hose to the bidet attachment and T-adaptor. Once you place the toilet seat back in position, you can start to use the bidet for a deep-down clean!
Some basic equipment
Don't feel intimidated when you learn how to install a bidet attachment because they come with full instructions. Furthermore, the kit supplies most of the parts you need to complete the job.
The kit arrives with a 7/8 inch connection T-adaptor, a toilet bidet seat mounting attachment, and a length of flexible water hose. However, you might need to stock up on some basic bits and pieces to complete the job successfully.
What you need
A good quality wrench proves vital to complete the job. Ensure you use the appropriate size as forcing the issue with an ill-fitting wrench may damage the system and cause water leaks.

Plumbers tape seals the water connections and provides an excellent seal. If you don't use the tape, you may find that water drips from the pipes and valves, and then you have to start all over again.
A range of screwdrivers helps you to fix the bidet attachment and toilet seat into position. Don't use old battered screwdrivers because you run the risk of ruining the heads of the screws, and the last thing you want is a loose loo seat!
What Is a Bidet Attachment?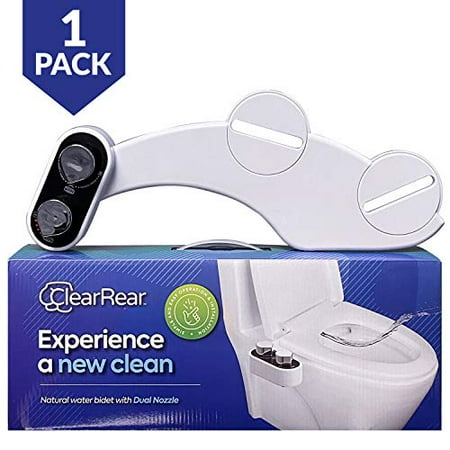 Buy at Walmart.com
A bidet attachment consists of a fixture that goes at the toilet seat's backside and contains a nozzle facing your rear end.
Usually, a small control unit allows you to turn the device on and control water flow. Some units use dual nozzle systems for front and back use, while others will enable the user to control the water's direction.
How does a bidet work?
A bidet forms a hygienic alternative to using toilet paper. It works by directing a stream of water through nozzles to clean your nether regions after contemplating on the loo.
The bidet uses water directly from the main water supply. Consequently, the water remains clean and sanitary. Furthermore, most bidets use self-cleaning nozzles, but it's a good idea to clean them when you undertake your regular toilet cleaning chores.
From a hygienic perspective, a bidet provides you with a deep-down clean. Toilet paper tends to extend the problem of waste rather than eradicate it, leading to unhealthy and unsanitary conditions.
However, a bidet uses water to remove the offending waste so that it doesn't come into contact with any other parts of your body.
The benefits of using a bidet attachment
When you learn how to install a bidet attachment, you may discover some fantastic benefits of using the system.
When you use a bidet, you don't need to use toilet paper. Consequently, the process proves environmentally friendly because you're not flushing copious amounts of paper into the drainage system.
Furthermore, the risk of blockages, clogging, and the resulting repairs lessen significantly when you use a bidet.
Recommended Read: 10 Plumbing Fails You Need to See
Health benefits
Using a bidet is healthy and hygienic when compared to using toilet paper. It leaves your behind feeling cleaner, fresher, and healthier.
Some people find toilet paper uncomfortable to use and may develop a rash or sore skin from using paper. When you consider toilet paper, it consists of nothing more than dry paper, which may irritate the skin. Anyone who suffers from irritable bowel syndrome knows all too well the pitfalls of constant toilet paper usage.
Washing your behind with water is a gentler alternative to rubbing the sensitive area with dry paper!
A bidet is gentle on the skin, and the flush of water after using the loo leaves you feeling refreshed and squeaky clean.
Save money
Money is tighter than ever, given our current worldwide circumstances, so using a bidet cuts out the toilet paper bill. Furthermore, a bidet attachment uses less water than a conventional stand-alone bidet, so it may save you money on your water bills.
Stand-alone bidet systems cost more to buy and install than a bidet attachment. Imagine all that expensive plumbing and groundwork to install a bidet. For many of us, such a cost is out of the question.
However, when you learn how to install a bidet attachment, it is easy to achieve and cost-effective.
How to Install a Bidet Attachment Explained
We understand that using a bidet is cost-effective and leads to a healthy, clean derriere.
When you buy a bidet attachment, it arrives with detailed instructions to guide you through the process, but the unit's fitting proves more manageable than you may think.
Step 1
Begin by shutting off the water supply for the toilet and flush the toilet to empty it. The last thing you want is toilet water gushing all over you as you work!
Step 2
Use your spanners to disconnect the hose attachment from the bottom of the toilet tank.
However, take care not to strip the connections when unscrewing them and don't apply too much force. Make sure to use the appropriately sized spanner and lubricate the area with a bit of WD40 if necessary.
Step 3
Use good quality screwdrivers to remove the toilet seat. Be careful not to damage the screw heads as you need to replace them afterward. Ensure the head of your screwdriver remains true to shape to avoid ruining the screws.
Before you move on, wipe the area down to ensure everything stays clean and free from water.
Step 4
It's time to fit the T-vale adaptor to the bottom of the toilet bowl. Take your time with this step and use your wrench gently because you don't want to overtighten the screw and risk threading them. Apply a little of the plumber's tape to the screws to achieve a good seal.
Recommended Read: What Are the Main Toilet Parts & How to Properly Assemble Them?
Step 5
When you re-attach the water hose from the water hook up to the T-adaptor's bottom, you may need to use a washer or additional plumber's tape to prevent leakage. Take your time and use the spanner gently without forcing the bolts into place.
Step 6
Take the flexible hose supplied with the kit and attach it to the T-adapter. You may use a little plumber's tape on the joints to ensure a successful seal but take care not to overtighten the fittings. Attach the other end of the hose to the bidet water attachment and set it aside.
Step 7
You may find a piece of rubber inside your kit, which you attach to the underside of the seat mounting. Use the grooves on the underside as a guide for the correct placement of the rubber.
Now, line the unit up with the toilet seat screw holes and lay the bidet flat on top of the toilet.
Step 8
Place the toilet seat on top of the bidet attachment and ensure the holes line up before inserting the toilet screws. Take time to ensure perfect alignment and tighten the fixings once you feel satisfied with the positioning.
You need to ensure the fixings stay tight. If not, you may find yourself sliding off the toilet when you use it, and that's not a good look!
Step 9
Now it's time for the big reveal! Turn on the water. At this stage, ruin your fingers around each joint to ensure no water leakage. If you find water dripping from a joint, you may need to tighten the fixing further to form a tight seal.
A job well done
Learning how to install a bidet attachment is easy when you follow each step and take your time. Don't rush the job, and ensure you use good quality tools as you work. The plumber's tape is an invaluable tool because it helps seal the joints to lessen leakage risk.
Troubleshooting
Once you complete the job, it's time to run the system through its paces. However, if you come across any issues, you must attend to them immediately.
Leaks
If you discover any leaks, you may need to tighten the joints. In some cases, you may need to turn the water off and re-do the offending joint, primarily if you haven't used plumber's tape. In a worst-case scenario, you may need to install washers into the joints to prevent leaks.
Water pressure
If the water pressure proves too high when you use the bidet, you'll know all about it! Consequently, if you don't want a bum power wash, you may need to adjust the water pressure.
The controls on the unit help you to adjust the strength of the water jet. Alternatively, you can adjust the water on/off connection to half to reduce the flow's power.
How to Install a Bidet Attachment Explored
You don't have to learn complex plumbing to know how to install a bidet attachment. Most units arrive with the items needed to fit your new bidet, and with some essential tools at hand, you can make short work of the job.
A bidet offers a hygienic, money-saving alternative to using toilet paper. If you suffer from bowel conditions, irritable skin, or eczema, using toilet paper may be a challenge and exacerbate the condition.
Recommended Read: Best Bio Bidet for You: Finding the Perfect Machine to Get You Clean
Consequently, using a bidet may help to alleviate these ailments and make using the loo a better experience.
Make sure to have some plumber's tape, a set of screwdrivers, and wrenches at hand. Furthermore, you must always follow the manufacturer's instructions when learning how to install a bidet attachment.
You can adjust the water pressure for a comfortable experience and bask in the knowledge that you fitted the bidet yourself!
Have you ever tried a bidet? Did it change your outlook on bathroom hygiene? Share your experience in the comments below.