Do you feel like you have to do contortions to sit on your bathroom toilet? Perhaps you need to switch to a corner toilet for your small bathroom.
Corner toilets are what they sound like because they fit right in the corner. You can use them to save space so that you can be comfortable in the room. That way, you can do your business without stress.
The Best Corner Toilets
Finding the best corner toilet for your small bathroom can be difficult. While there are many toilets on the market, many of them are too big for your space.
Luckily, there are a few options you can choose from when toilet shopping. Here are a few toilets you can put in a corner.
Sheffield Corner 2-Piece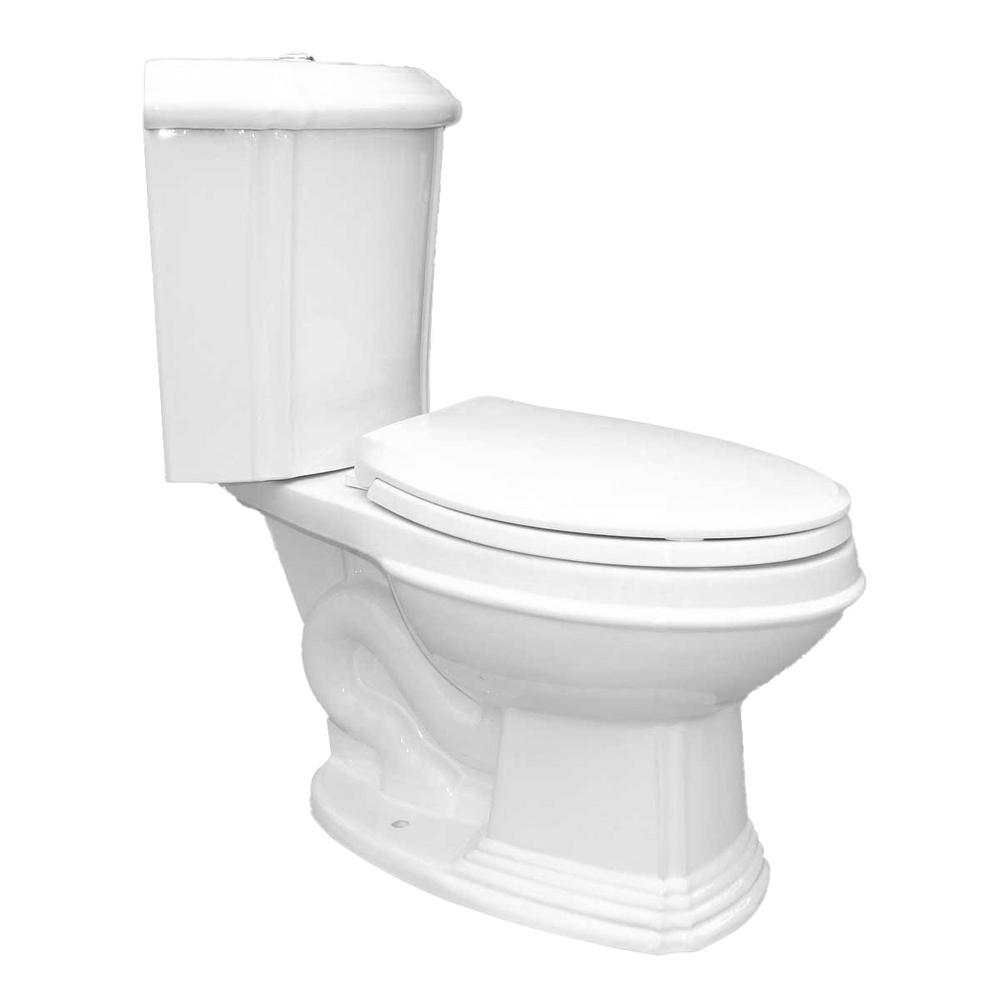 The Sheffield Corner 2-Piece toilet, available from The Home Depot, features an elongated bowl, so it's still comfortable to use. However, the triangular tank can fit in the corner to help you save space in your bathroom.
It has a special finish that makes it resistant to stains and scratches. The color can match your existing bathroom fixtures, so you don't have to replace everything. And you can choose between two flush options.
A lighter flush uses 0.8 gallons, and a stronger flush uses 1.6 gallons of water. With the lighter flush, you can save thousands of gallons each year.
The seat height is 16 inches, and it requires 12 inches of rough-in space. Unfortunately, you'll need to buy floor bolts and bolt covers separately.
Troyt Compact Corner Bathroom Toilet
Another great corner toilet comes from Troyt and is available on Amazon. The Compact Corner Bathroom Toilet is a two-piece toilet with a round toilet bowl. Its seat height is just under 15 inches.

This toilet complies with Watersense and ANSI, and it uses a dual flush system. You can use 0.8 or 1.6 gallons of water with each flush, which is great if you want to save water.
The triangular tank fits perfectly in a corner, and you'll need 12 inches of rough-in space. Once you install it, the heavy-duty porcelain can resist scratches and stains.
It's a great toilet for small bathrooms, and it only needs 30 inches from the corner to fit. However, you will need to supply your own bolts, bolt covers, and wax rings.
Kohler Veil Wall-Hung Toilet Bowl
If you don't like the look of a corner toilet tank, consider the Kohler Veil wall-hung toilet bowl. This toilet is one piece, and it hangs right on the wall to save even more space than some other models.
You can use the toilet with an in-wall tank system, so it can work as well as any other toilet. And the mounting hardware isn't visible after installation, so it looks clean and polished.
It features a compact, longer toilet bowl that takes up the same space as a rounder bowl. The seat is comfortable to use, and you can choose the best installation height for you.
Like other corner toilets, this one uses a dual flush, with 0.8 and 1.6-gallon flushes available. That way, you can save water, but the toilet will still be efficient.
WoodBridge Dual Flush Toilet
The WoodBridge Dual Flush Toilet is more of a traditional toilet, but it does have an angular design. That design makes it a good option for a medium-sized bathroom where you still want to save space.
It measures 28 inches deep, so it's smaller than most toilets. You can put it near a corner so that you still have legroom on each side, but it isn't as easy to sit on as a corner toilet.
Still, you can choose between flushing 1 and 1.6 gallons of water at a time. The toilet works well for both liquids and solids. It's easy to clean and features a modern design.
This toilet has a quiet flush, but it's still powerful enough for both flush modes. You get everything you need in the box so that you can install the toilet easily.
Horow Small Toilet
Another traditional toilet to consider for use in a corner is the Horow Small Toilet. It's a one-piece toilet, and it's smaller and more compact than other toilets.
That makes it great for smaller bathrooms, even though it doesn't fit right into the corner. Like other toilets, this one uses a dual flush system, and the two options are 0.8 and 1.28 gallons.
It can flush well without clogging or making a ton of noise. And the white color means the toilet can look good in any bathroom, even with your existing fixtures.
If you have a window ledge in the bathroom and can install the toilet near it, you can save even more space. But the window ledge still offers some legroom on both sides.
How to Choose a Corner Toilet
Fortunately, choosing a corner toilet is similar to selecting a regular one. But there are some special considerations you should make so that you can choose a toilet that fits your bathroom and needs.
Related Read: How Does a Toilet Work?
Here are a few factors to think about when comparing corner toilets.
Bathroom size
First, you need to figure out how big your overall bathroom is. It's also important to look at the shape of the bathroom, especially if it's not a square or rectangle.
If the bathroom is really small or has an odd shape, you may want to look for a smaller corner toilet. But if the bathroom is a bit bigger, you'll have more choices for toilets.
Another thing to consider about the size is how much space you have when you open the door. That way, you can make sure the toilet won't interfere with your ability to get in and out.
Bathroom design
Similarly to the size, you should consider where in the bathroom you will need to install the toilet. Think about where the drain hole is and if you can realistically put the toilet there.
Consider if you'll have enough space for a bigger toilet tank or if you may need a tankless option. Then, you can still fit the toilet and sit comfortably on it.
You might also need to consider the angles of the corners. If a corner isn't exactly 90 degrees, installing a corner tank may not be the best option.
Energy efficiency
No matter what toilet you decide to use, you need to make sure that it meets energy efficiency standards. In the United States, federal standards require using no more than 1.6 gallons of water per flush.
Fortunately, most corner toilets fit these requirements. However, you may also want to check with your state or local government.
Some areas may have lower maximums. If that's the case, you'll need to find a corner toilet that doesn't exceed that restriction.
Either way, looking for a more efficient toilet is a good thing. While it might be hard to find one that uses less than 1.6 gallons of water, doing so can help you save a lot of water each year.
Flush type
You may also want to decide between single and dual flush toilets. Both offer pros and cons, so consider which you prefer.
For example, a single flush toilet is easy to use, but a dual flush toilet lets you use less water when you don't need it. That way, you can choose the best option for each flush.
Many corner toilets offer dual flush systems, so you can save water. But some people might want a single flush toilet. Consider what you're used to using to help make this decision.
Plumbing location
When shopping for corner toilets, consider if getting one is practical. Determine where the plumbing is and where in the bathroom you can install a toilet.
This is especially important when you have a bathroom that used to be a bedroom or closet. The space may not have the plumbing you need in the spot you want.
While you can hire a plumber to help, determine if that's worth it. If not, you may need to adjust where you put the toilet. You may need an even smaller option so that everything fits in the bathroom.
Budget
Of course, you should also think about how much you can afford to spend on a toilet. Corner toilets can vary in cost, so you can find some that are more affordable.
However, you need to have a budget in mind for this project. That way, you can limit your search to corner toilets you can afford.
You can also use a budget to determine which features are the most important, such as the size or shape. If you have a smaller budget, you may need to compromise, and you can use your preferences to help.
Other Ways to Save Space in the Bathroom
If you can't find a corner toilet that you like or that suits your needs, you can still save space in a small bathroom. Whether you're redoing a full or half bath, there are a few options to consider.
You can use one or more of these options, either instead of a corner toilet or along with one. That way, you can make the most of the smallest bathroom you have.
Corner shower
If you're trying to save space in a small full bath, consider installing a corner shower. The shower should have space for you to stand up and for the water to run out of the showerhead.
However, you don't need much more space than that. Switching from a bigger shower to a corner model can free up a lot of space for a big toilet or general legroom.
As long as your existing shower has the head near a corner, the switch can work. You may need to hire a professional to help install the shower so that it will work well and be easy to use.
Corner sink
In a full or half bath, you can use a corner sink to save space. The sink works similarly to a corner toilet in that it has a triangular design to fit against two walls.
You can still use the sink as normal, so you can wash your hands or face in the bathroom. Then, you don't have to give up on a bigger toilet.
If you want to maximize space in a bathroom but can't find a good small toilet, the sink is a great alternative. Most sinks don't need a ton of space, so you can make good use of the bathroom.
Smaller sink
Whether you get a corner sink or not, switching to a smaller sink is easy enough. In most cases, you don't need a ton of counter space on the side of your bathroom sink.
This is a great switch for a half bath or powder room since you'll only need space for soap. But you can also make the swap in a full bath. You can get some shelves to store your toiletries without wasting space.
It can sit along any wall, and the sink bowl doesn't have to be too small to be usable.
Sliding door
If your bathroom is along the side of a hallway, you can look into getting a sliding door. When you open the door, it will move to the side, which is why you need space on either side.
However, you don't need space within the bathroom to use this type of door. You can install a lock on it like any other door, so you can maintain your privacy.
Then, you'll be able to use every inch of the bathroom for your toilet, sink, and shower.
Wall mirror
Adding a mirror to your bathroom won't save space, but it can make the room feel bigger. If you use a corner toilet, sink, and shower a mirror is great.
Not only can it add some space, or make it feel like that, but you can use the mirror when you get ready. That way, you can make sure you look and feel good before starting your day.
When You Gotta Go
If you struggle to move in and out of your bathroom, consider switching to a corner toilet. That way, you can save space without sacrificing comfort.
Be sure to consider your bathroom size and design so that you can choose the best toilet for you. And if the room is still too small, you can add a corner sink or shower to help.
Last update on 2021-09-18 at 01:41 / Affiliate links / Images from Amazon Product Advertising API